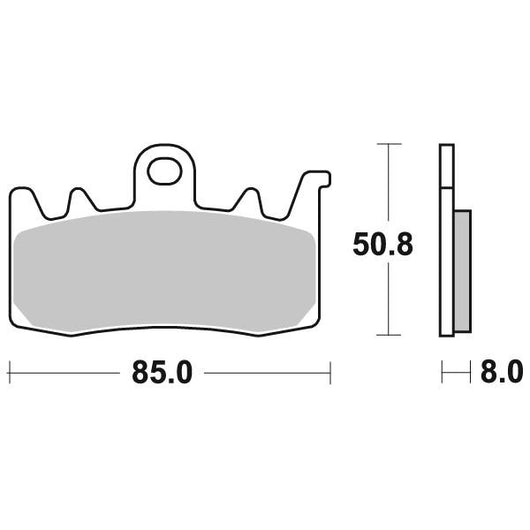 SBS 900 Front Brake Pads
Regular price $41.95 Sale
SBS Friction A/S is the world's leading manufacturer of motorcycle brake pads for street, off road and racing.

For more than 30 years their aim has been to offer the most complete range of motorcycle brake pads in a variety of friction materials developed to suit specific purposes like street, off-road and racing.

Pads are sold per caliper. A quantity of two will need to be ordered if you wish to receive the pads for both calipers on the front wheel.
Compounds:
HS - High Performance Street/Track Day

The perfect combination of fade free brake performance, brake feel and thermal stability, especially
developed for sport riding and high loads from heavy motorcycles.


The HS lining is rotor friendly, the performance is stable under dry as well as wet conditions and no thermal bedding-in is required. Recommended for new generation high performance, sports, touring and custom motorcycles which are originally equipped with sinter metal brake pads.

RS - Race Sintered - Ultimate Track Day Pad

Used to be the Top racing pad for Supersport & Superbike back in the late 90's, now it is rated as the ultimate and affordable track day pad for your road & track bike.

DS - Dual Sintered - Recommended Race Use Only

Introduced 2007 for World Superbike, Supersport &Endurance, winning the two sprint Championships and doing the complete 24 Hour race distance of Lemans & Bol d'or in its 1st season. DS proved already to be the new standard in brake pad technology for World Championship Racing & Endurance.

DC - Dual Carbon - Recommended Race Use Only

Used by the world's top teams and riders since 2001 introduction to win 7 World Championship titles and numerous of National Championships.DC is the "The choice of Champions" for Superstock, Supersport and Superbike classes.

Requires "bedding-in"
Sold per Caliper