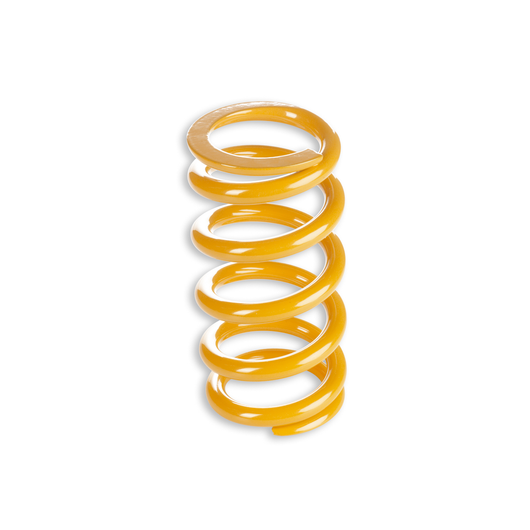 Ohlins Shock Spring - Panigale Ohlins
Regular price $99.00 Sale
Ohlins factory replacement shock spring for the Ohlins TTX (and TTX GP) Panigale rear shocks.  This is the OEM rear shock on the Paniagle S / R models, or aftermarket Ohlins shocks for all Panigale Models.   Having a properly sprung shock is essential to unlocking the top performance potential of your shock! 
** These springs are NOT compatible with the base model 1199 / 1299, 899, 959 Panigale Sachs rear shocks, choose Ohlins Shock Spring - Panigale Sachs for those applications **
Ducati Omaha Suggested Baseline Spring Rates:
 (+/- one rate based upon rider preference and riding conditions)
 (recommended Flat-rate linkage setting, if Progressive then go one rate lower)
Spring Rate = Rider Weight (including riding gear)
75 N/mm = < 165 lbs.
80 N/mm = 165-185 lbs.
85 N/mm = 185-205 lbs.
90 N/mm = 205-225 lbs. (Stock spring rate on Panigale S / R TTX Shock)
95 N/mm = 225-245 lbs.
100 N/mm = >245 lbs.

THESE ARE BASELINE RATES BASED UPON OUR EXPERIENCE WITH PANIGALE SETUP, PRIMARLY FOR TRACK BIKES.  THIS IS NOT DESIGNED TO BE A DEFINITIVE GUIDE OR NUMBERS SET IN STONE, SUSPENSION SETUP IS AS MUCH ART AS IT IS SCIENCE SO IF YOU DISAGREE WITH THE RECOMMENDATIONS AND WANT TO CHOOSE A DIFFERENT RATE, GO FOR IT!  IF YOU ARE RACING, PLEASE CONSULT WITH YOUR SUSPENSION TUNER OR CONTACT US FOR SPECIFIC RECOMMENDATIONS.