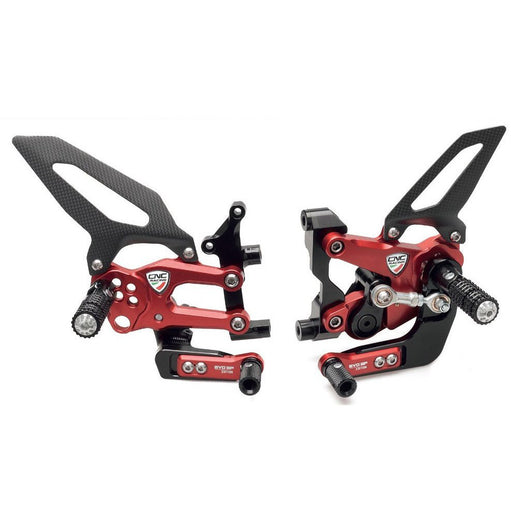 CNC Racing Adjustable Rear Sets - EVO GP Edition
Regular price $1,349.95 Sale
The evolution of the best-selling PE400 rear sets, developed in collaboration with partner team in WorldSBK and British BSB.

Main features:
1) oversized sections for maximum stress on the track race
2) gear leverage has been evolved for use in competitions:
- Double idle rod for a drive without downturns
- Bearing housing with oversized shoulder in support of the rear set
- just reversed shifting
- gear lever pivoted on double ball bearing and folding toe peg
- fully adjustable brake lever length on the sliding guide (range of 35 mm. than the stock configuration | -20 +15 mm).
3) screws machined lightened steel AISI 304
4) footpegs have been CNC knurled for maximum grip even in the wettest conditions. Reclining and lockable steel spring hinge
5) carbon heel guards, developed to provide optimum support and protection.