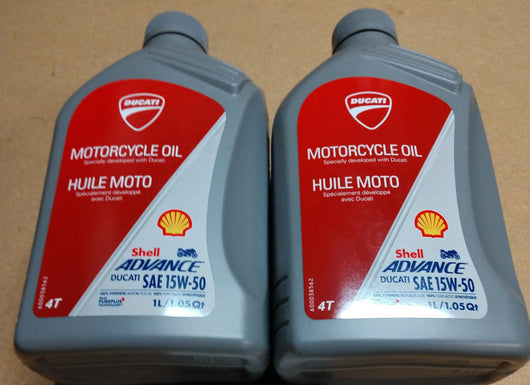 Shell Advance Ducati Blend Engine Oil - 1 Liter
Regular price $16.99 Sale
Shell Advance oil is what every new Ducati comes straight from the factory with, and it is the oil recommended by Ducati for optimum operation of YOUR Ducati engine!
SPECIAL FORMULA DEVELOPED IN PARTNERSHIP BETWEEN DUCATI AND SHELL, WITH INPUT FROM THE DUCATI CORSE RACING DEPARTMENT. SAME OIL USED ON DUCATI MOTOGP RACE BIKES!
NOTE: If you need a FULL Oil Change Kit, including the Oil Filter, please purchase using the OIL CHANGE KIT product option instead, it will save you a few bucks!
Available in two oil weights:
15w50 (MOST newer Ducati models default oil weight)
10w40 (Optional weight - preferred in some climates and older models)
Consult your owner's manual if you have any questions on which weight oil you should use. 15w50 would be used 95% of the time.