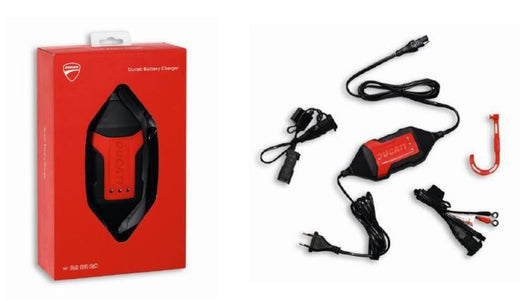 69928471BZ - Ducati Performance Techmate Batter Charger
Regular price $105.00 Sale
Ducati Performance TECHMATE battery charging unit for ALL Ducati models with standard lead-acid batteries (NOT compatible with Lithium-Ion batteries).
Models which came with OEM Lithium-Ion battery and are NOT COMPATIBLE with this charger include: Panigale V4S, Superleggera, 959 Corse, Panigale R, Panigale V4R, Panigale V4SP, Panigale V2 Bayliss, and any others with LITHIUM batteries.

This charger is fully automatic and is designed to increase the useful life of lead-acid batteries. On many current Ducati models, the connection is fast and convenient as the battery charger can be connected directly to the DDA (Ducati Data Acquisition) socket. No DDA, no problem - the Ducati Battery Charger is suitable for any bike as it can be connected directly to the vehicle battery. NEW MODEL includes a new adaptor cable for EURO 5 compliant motorcycle!