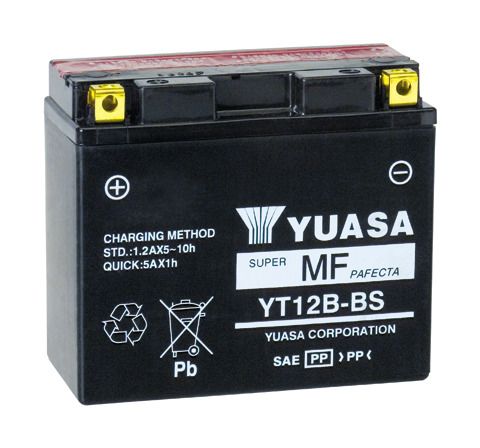 YT12B-BS - Yuasa AGM Battery
Regular price $122.95 Sale
AGM construction results in a truly maintenance free battery that simply works, every time.
Yuasa YT12B-BS AGM Battery
This is the new generation of maintenance-free batteries from the largest motorcycle battery manufacturer in the world! Over 50 years of engineering expertise ensures high-quality construction for long and trouble-free service. Their use of Absorbed Glass Mat (AGM) Separators is an advanced battery technology that eliminates the need to ever add water. Their advanced lead-calcium alloy holds its specific gravity more than 3 times longer than conventional lead antimony batteries. This equates to a battery that can go much longer between charges when used in standby mode, like winter storage. This is truly the world's finest "install it and forget it" motorcycle battery!
Fits on:
Diavel, S
Multistrada
Multistrada 950
Multistrada 1260
Monster
Monster 1200
Monster 1100
Monster S2R
Monster 796
Monster 696
Monster 797
848
1198
998
999
1098
Hypermotard
Hypermotard 939
Hyperstrada 939
Streetfighter
Scrambler