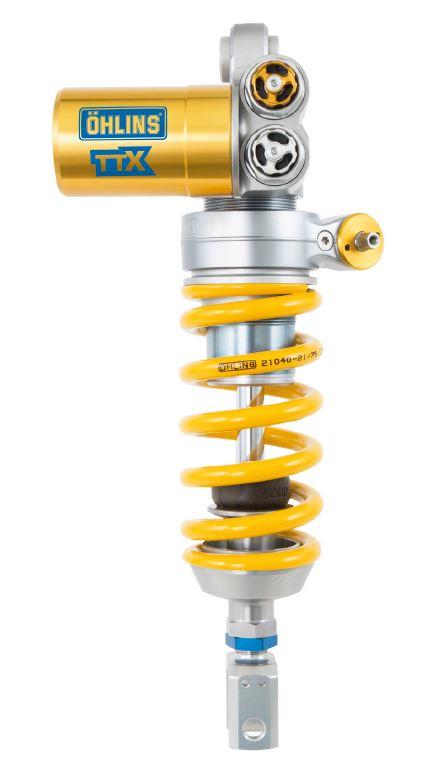 Ohlins TTX GP Shock - Panigale 1199/1299
Regular price $1,429.00 Sale
TTX GP shock absorber Road & Track DU 466
The TTX GP is our latest shock absorber for hypersport and sport bikes. It features the TTX twin tube technology but has been developed with the latest technology from Ohlins vast experiences in MotoGP.
The compression and rebound damping adjustments are improved by a new adjustment needle with better guidance and different flow restriction behavior. It gives a more precise adjustment and constant function. The adjustment range is also wider and variations between shock absorbers are reduced.
A much improved chassis feedback as well as improved performance for the rider is obtained.
News also includes a new main piston. This gives the rider much better traction and feeling which means improved
control. The TTX GP is further optimized and shares all other benefits with the TTX36 shock absorber.
---
Fits for vehicles
Ducati 1199 Panigalef 

(2012 - 2015)

Ducati 1299 Panigale 

(2015 - 2018)
---
Part number
DU 466
---
Type Code
T36PR1C1L
36
Piston diameter: 36 mm
P
Monotube high pressure gas type of shock absorber with external piggy back reservoir.
R1
Adjustable rebound damping. Black adjuster on TTX36 shocks / silver adjuster on TTX GP shocks.
C1
Adjustable compression damping. Gold adjuster on TTX36 / TTX GP shocks.
---
Technical data
| | |
| --- | --- |
| Length: | 312+4/-8 mm |
| Stroke: | 65 mm |
| Rate N/mm: | 90 N/mm |
| Position: | rear |
| Mounted spring: | 01092-29 |
| Packaging unit: | pieces |
Ducati Omaha Suggested Baseline Spring Rates:
(+/- one rate based upon rider preference and riding conditions)
(recommended Flat-rate linkage setting, if Progressive then go one rate lower)
Spring Rate = Rider Weight (including riding gear)
75 N/mm = < 165 lbs.
80 N/mm = 165-185 lbs.
85 N/mm = 185-205 lbs.
90 N/mm = 205-225 lbs. (Stock spring rate on Panigale S / R TTX Shock)
95 N/mm = 225-245 lbs.
100 N/mm = >245 lbs.

THESE ARE BASELINE RATES BASED UPON OUR EXPERIENCE WITH PANIGALE SETUP, PRIMARLY FOR TRACK BIKES.  THIS IS NOT DESIGNED TO BE A DEFINITIVE GUIDE OR NUMBERS SET IN STONE, SUSPENSION SETUP IS AS MUCH ART AS IT IS SCIENCE SO IF YOU DISAGREE WITH THE RECOMMENDATIONS AND WANT TO CHOOSE A DIFFERENT RATE, GO FOR IT!  IF YOU ARE RACING, PLEASE CONSULT WITH YOUR SUSPENSION TUNER OR CONTACT US FOR SPECIFIC RECOMMENDATIONS.