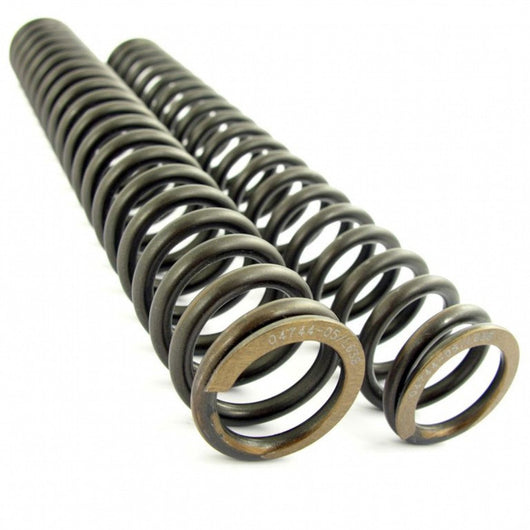 Ohlins Fork Springs (Pair)
Regular price $159.00 Sale
One of the most important aspects of fine tuning the set-up of the bike to your riding style and weight is to get the correct spring rates installed!
Ducati Omaha Baseline Fork Spring Recommendations:

Spring Rate = Rider Weight (Including riding gear)
8.5 Nm = <165 lbs.
9.0 Nm = 165-185 lbs.
9.5 Nm = 185-205 lbs.
10.0 Nm = 205-225 lbs. (Stock spring rate in Panigale Ohlins forks)
10.5 Nm = >225 lbs.
THESE ARE BASELINE RATES BASED UPON OUR EXPERIENCE WITH PANIGALE SETUP, PRIMARLY FOR TRACK BIKES.  THIS IS NOT DESIGNED TO BE A DEFINITIVE GUIDE OR NUMBERS SET IN STONE, SUSPENSION SETUP IS AS MUCH ART AS IT IS SCIENCE SO IF YOU DISAGREE WITH THE RECOMMENDATIONS AND WANT TO CHOOSE A DIFFERENT RATE, GO FOR IT!  IF YOU ARE RACING, PLEASE CONSULT WITH YOUR SUSPENSION TUNER OR CONTACT US FOR SPECIFIC RECOMMENDATIONS.