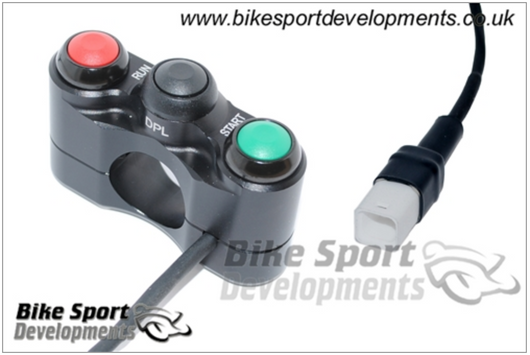 BSD 3 button Stop/Run, DPL, Start - Panigale V4
Regular price $279.99 Sale
Right side road or track switch assembly for the following bikes machined from billet aluminium


This switch is a direct replacement for the standard right hand multi-function switch assembly found on the Ducati V4, it features all of the standard controls needed for a track or road bike in a billet machined aluminium body.

---
Each switch is IP67 sealed featuring gold contacts and connects to the bike via a plug n play connector. No modification of the bike wiring or steering stops are necessary

The standard wiring loom may be tucked safely out of the way behind bodywork panels and then plugged into our extended wiring, this protects the main bike wiring from damage in the event of a crash.

Note that you will need a special tool to remove the standard switch assembly. Ducati part No.887134967, or we can supply our own version, part number BDD1734 at minimal cost.
Greater crash protection as well as electrical integrity with gold plated contacts