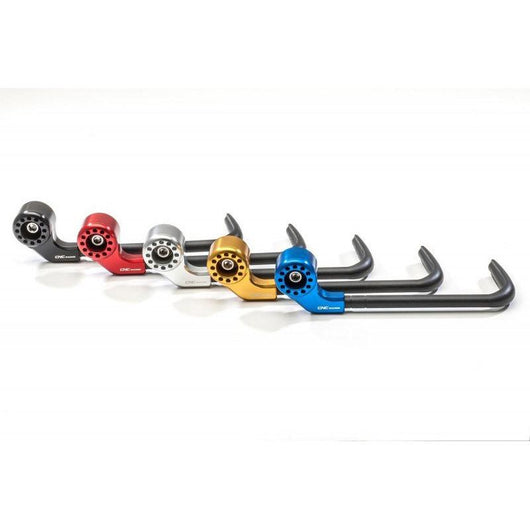 CNC Racing Brake Lever Guard - Race
Regular price $174.95 Sale
BRAKE-GUARD RACE the new lever protection system designed for both road and racing bikes. Developed in cooperation with the best GP and Superbike teams, an innovative and practical product that combines safety without forgetting design and production quality.
The safety made possible by the plastic bracket protecting the contact of the brake lever from obstacles that might cause disastrous falls.
Brake-Guard protection design the fruit of two years' studies, above all from an aerodynamic point of view: a sleek line without any type of air front pressure guarantees clean driving without any interference. The product quality and style is characterized by the best materials in circulation, thanks to an in-depth study of the plastic materials that has allowed us to identify a polymer capable of being flexible up to a certain safety point and shearable once it reaches its maximum elasticity, so as to prevent any contact with the brake lever.

BRAKE-GUARD RACE passed the breakage test of the MotoGp safety Commission.
Notice: to mounting the Brake Guard it is mandatory to use an adapter (sold separately) If you do not have this piece already, please select the adapter in the drop down menu above.